Scanimate Tour: artwork scanning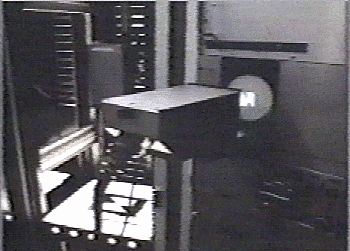 The view shown is captured from a videotape I made at Image West during a job for NBC. The artwork was placed in a rack containing a light-table with a high-resolution (for those days!) camera looking at it. A second NTSC camera looks at the CRT with the same artwork displayed on it. The Scanimate then manipulates the raster on the CRT to make "Scanimation" happen!
---
Back to the Scanimate Tour
Please leave your comments in the Scanimate Guest Book!