Scanimate DVD #1 First Edition Once Again Available!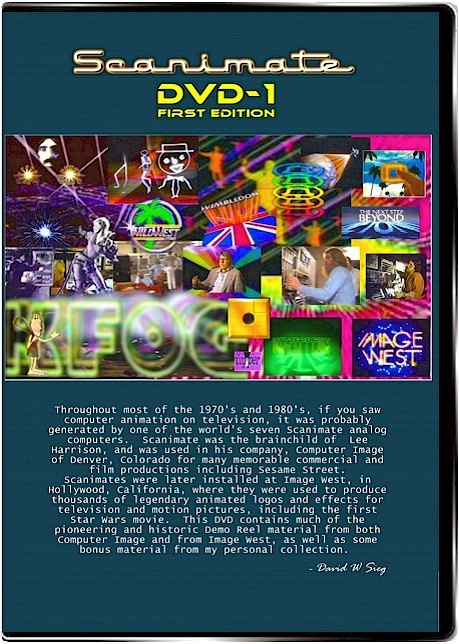 Due to popular demand, I have re-packaged DVD-1 so it is now in a regular DVD case. All the video material is still the same as it was in the original DVD-1. The 2 hours of amazing material compiled in this DVD is from my personal collection of videotapes showing the earliest computer-generated animation known as well as some of the best analog animation ever produced. You'll see interviews with the genius behind the Animac, Scanimate, CAESAR, SYSTEM IV computers, Lee Harrison III. You'll see rare behind-the-scenes footage of both Computer Image and Image West, showing how animation was produced in the analog days. Most of the footage is very high quality, and the early material has been processed and time base corrected. If you were involved in electronic animation in those early days, or if you just want to own a piece of history, this DVD is for you!

Scanimate DVD-1 First Edition is $20.00 plus tax. Shipping cost will depend on your location.


Click HERE to order!
If you wish to order DVD-1 and DVD-2 Click Here.
---
Follow the links below to view stills and time references from DVD-1
---
Back to the Scanimate Homepage.

Last updated June 3, 2022
All Images, Text, Motion Pictures Copyright, &copy David W. Sieg